Mushroom cultivation is one of the fast growing businesses nowadays in Nepal due to its high profit. Farmers can get output within one month from the cultivation. Nepal is also a country where mushroom can be cultivated throughout the year under natural environmental conditions. There are plenty of raw materials for mushroom cultivation. Skilled farmers can earn a lot of money from its cultivation. So from every point of view farmers should be encouraged to cultivate mushrooms. In order to get valuable mushrooms good knowledge and practice skills are required. For this purpose NETIF organized advance training for mushroom production in Dhulikhel as one of the objectives of NETIF is to support the local communities and tourism entrepreneurs with training and awareness programs to increase local livelihoods and enhance the local environment.

Photo: Different types of edible mushroom
Interestingly these days there is growing trend on consumption of mushroom because of its healthy benefits of very low cholesterol, low calorie and its fine taste. At present, Oyster and Button mushroom are easily available in the market but now shiitake mushroom cultivation is also appearing in Nepal. Shiitake mushroom is more chewy, flavorful and aromatic than other known mushroom types such as oyster and button mushrooms. While this particular species renders most of the top mushroom delicacies in the world and possesses high medicinal value, cultivation is regarded equally difficult due to the minimum range in changes and fluctuations in necessary parameters. Unlike other oysters and button mushrooms, shiitake requires more care so proper knowledge and training is required for it cultivation.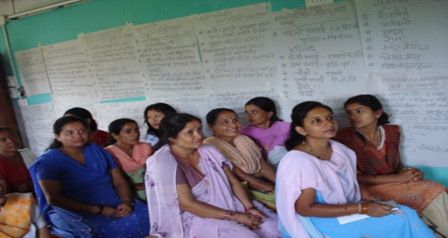 Photo: Women group participating in the mushroom cultivation training
Therefore to provide proper knowledge the advance training for the production of Button and Shiitake mushroom was provided by Women Entrepreneurs Association of Nepal (WEAN).The training took place from 16th-19th April, 2013 and the training was provided to the farmers who have been producing the mushrooms before and who have taken the basic mushroom farming training given by NETIF.

Photo: Trainer guiding the trainees on mushroom cultivation methods
NETIF also provided the training group with grass cutting machine as an incentive so that they can make best use of it for the mushroom production. NETIF has been aiming to promote organic farming so that farmers, local community and the hotel sector can get the benefits from it. The Hotel Association of Dhulikhel was invited for the market linkage so that both the local farmers and the hotels can get the sharing benefit from the business and also to enhance the tourism in the area.

Photo: Women group cultivating mushroom after training
Almost all the trainee were women group and are running the mushroom farming as a home based enterprise. They are able to do their domestic work along with the mushroom farming. There are 10 women working group among them each group keep 500-1000 sacks fro the production of the mushroom. The mushroom can be produced 3 times in a year and from 15 sacks about 4-5 kg of mushroom can be produced. From the group about 5 people have produced 300kg of straw manure for bottom mushroom farming.

Photo: Mushroom sacks prepared for the mushroom production
NETIF has helped to create a means for cash crop production with this training. This mushroom farming has become a production zone for the women group as it is environment friendly. About 50% of profit can be made from the production but if the production is done in careless manner loss may also occur. However if proper care is done it will result in increased production leading to higher consumption ultimately paving the way for the better livelihood of the local communities and tourism industry as well.