"Prakriti"- Hybung Agro Resort

Nature Nurturers in Prakriti
Organic farming is not exactly a new concept of farming in Nepal. In the past all Nepali farms were organic farms in albeit restricted approach. The newly adopted term has expanded the scope of farm related activities to encompass the entire gamut of farming that includes home stay, fishery, poultry or animal husbandry as well, making farming a more comprehensive, all inclusive activity. Adding tourism and recreational activities to this farm, Nepal Environment and Tourism Initiative Foundation (NETIF) and Nepal Organic Farming World partnering with community have established "Prakriti", the Haibung Agro Resort on the northern outskirts of Kathmandu Valley.
" Prakriti ", or the Haibung Agro Resort, set in the lap of the peaceful Melamchi valley at an altitude of 2000 M above sea level, is just 25 Kms to the north east of Kathmandu city , near Chisapani in Haibung VDC 1 of Sindhupalchok district. It is the gateway to the Langtang National Park, Gosain Kunda and the Helambu region. The sprawling 50 acres of lush pasture land that Prakriti occupies, is shielded to its south by the deep, dense forests of Shivapuri Nagarjun National Park, screening off the noise & the pollution of Kathmandu City. To its north is the ever magnificent Himalaya, the serenity of this resort therefore all encompassing and self energizing.
"Prakriti"replicates a typical Nepali mountain farm set upon luxurious pastureland complete with its restaurant building, residential tented chalets, a meeting room, an outdoor barbeque area, playgrounds and ample grazing land with an access to a large lake (Wetlands) as well. Activities permit active participation in living with nature with spell binding views which incorporate an outdoor stage for cultural programs as well. Go indulge yourself in the farmer's mart or alternatively enjoy your meals outdoors with the birds and butterflies and nature as company. "Prakriti" aims to provide the definitive farm lifestyle experience, the Nepali way, at your own pace, a true paradise minutes from the capital city.

Trekking , Hikking and Exploring around "Prakriti"

In and around " Prakriti " there are splendid opportunities for trekking and hiking within easy reach. Amble along ample walking trails of the Shivapuri Nagarjun National Park or let the explorer in you take you to Mainchur Okhreni, Kune , Chisapani or Bagdwar, or even "Conquer" the Shivapuri Peak. A trek to Nagarkot can be an equally exhilarating experience. Take a short hike to the local Trout fish farm or the Tea estate ; or visit the nearby famous cheese factory or optionally walk around the Dhhap Lake bird watching, keeping a discreet eye on the wild animals of the region in their Himalayan abode. Come spring (February to May) design and walk your own trail through dense, full bloom Rhododendron forests ablaze in all their glory.
Should you want to indulge in cultural , walk over to Sankhu or Bajrayogini passing enroute through Newari, Gurung , Tamang Brahmin or Cheetri villages. All the while, await the spectacular grandeur of a true Himalayan Sunrise or Sunset off a rural setting.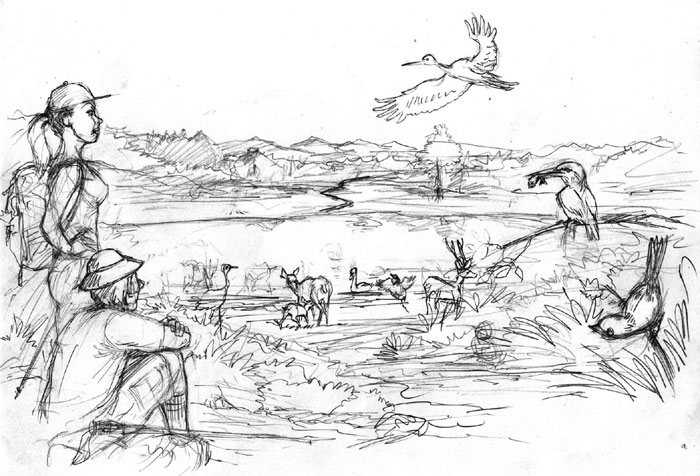 Accessibility

Getting there is half the fun. Of course there are several routes to paradise, but to this the most mesmerizing one, the trail leads you through an old growth Oak forest and a spell binding Rhododendron jungle, before the Melamchi Valley reveals itself with an awe inspiring view of the Himalaya as the crowning glory. This route to "Prakriti" is an eight kilometer hike or drive (Four wheel drive only) from Sundarijal, along the pristine Nagmati River, leading you through extensive tracts of forests over laden (when the time is right, that is spring time in February to May) with Rhododendron flowers of every possible hue. This trail is the perfect living exposition of Nepal's villagers living in complete harmony with nature within the confines of a National Park, see it to believe it! It's hard to imagine these are all there just 25 kilometers from Kathmandu City.

Here are some more hiking trails that can take you to " Prakriti " , your paradise to the north of Kathmandu.
| | |
| --- | --- |
| a. | By Mountain Bike– A fantastic way to get to " Prakriti " by Mountain Bike. A challenging yet scenically stunning and rewarding 2 hours ride from Sundarijal along the Nagmati river. |
| b. | Or take a 5 hour hike through the village of Mulkharka , Borlang bhanjyang Chisapani and " Prakriti " |
| c. | Alternatively, hike along the ridge from Nagarkot into the Sunset. |
| d. | The other option is a 90 minute countryside drive from Kathmandu through Boudha, Sankhu, Jarshing Pauwa , Bhote Chaur , Tea farm and Trout fish farm in "Jaisi Gaon" followed by a 30 minute walk before you get to heaven. |

Accommodations:
| | |
| --- | --- |
| • | 8 Private cottage tents ( 20 pax) set with spectacular views of the Melamchi valley and Forest of Shivapuri Nagarjun National Park. |
| • | Running Hot & Cold water: |
DINING:
| | |
| --- | --- |
| - | Comfortable floor sitting for 30 pax capacity |
| - | Chair sitting for 18 pax capacity. |
| - | Local and Continental food |
| - | ( Dishes prepared from our own farm house products and locally available goods such as trout fish, dairy products and tea estate) |

Amenities Include:
| | |
| --- | --- |
| • | Restaurants, Bars and meeting Facilities |
| • | Separate Bar and fire place |
Activities include:
| | |
| --- | --- |
| • | Hiking to observe Tea Estate, Trout farm, and Cheese dairy. |
| • | Guided Nature Walks around the lake ( Wet lands) for observation of birds and wildlife |
| • | Cultural Excursions in nearby villages and cultural heritage sites |
| • | Mountain Biking |
| • | Picnics and Bonfires with Bar b que |
| • | Live local Music and cultural dance |
Packages available at "Prakriti"
| | | |
| --- | --- | --- |
| SN | Types of Packages | Target Clients |
| 1 | Trainings, workshops | I/NGOs, GOs, Diplomatic Missions, Government Agencies, Corporate houses |
| 2 | Lower Secondary or high school Students | Children and students studying in well facilitated schools in urban centers who never had a chance to see rural life , animals and wishes to experience farm stay . |
| 3 | Weekend Package for families. | Well off urban family( usually educated professionals working in various institutions and corporate houses) who wish to escape away from urban life |
| 4 | Honeymoon | Well off urban Couple who have very limited time to go outside the valley |
| 5 | Economy packages | Students, researcher lured by rural life Package |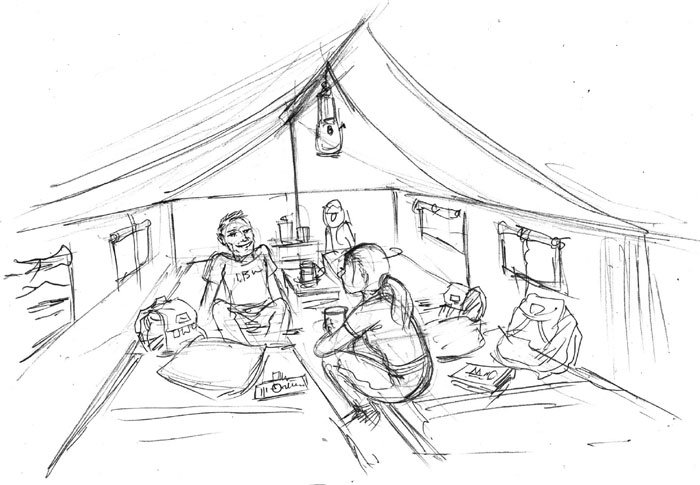 Managing " Prakriti "

"Prakriti" has been operated under the license of "Nepal farming Organic World Pvt. Ltd." and managed as a joint effort of NGO, Nepal Environment and Tourism Initiative Foundation (NETIF) , tourism professionals, individual investors, , and a selected team of villagers which a member of the Fair Trade Practices Group, is a committed social enterprise that will share its benefits with the poor and the backward members of its immediate community, whilst training and employing local people.